---
CLASSIC NASA WORM REPEATING (RED LOGO on WHITE or GREY)

Tshirt was $32.50 NOW JUST $16.50!

Hoodies & Sweats were $69 NOW JUST $38.50!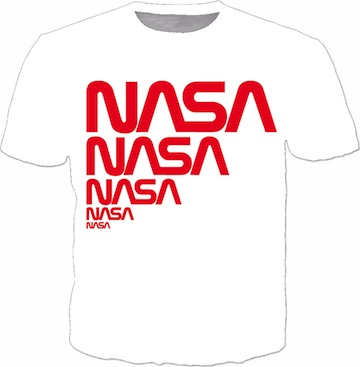 CLASSIC NASA WORM HOODIE, SWEATSHIRT,
T-SHIRT, LONG SLEEVE TEE, TANK TOP, DRESS OR BOMBER JACKET:

TSHIRT is supersoft ringspun 100% combed cotton gildan HAMMER style tee and SWEAT OR HOODIE USING GILDAN ULTRA COTTON
CONTINUE SHOPPING ON STUDIO 4312.COM

OR CLICK BACK TO SCOTTO.TV HOME PAGE HERE

---
FOUNDED IN NEW YORK CITY IN JUNE 1992
the iconic downtown NYC underground party on friday nights called NASA
(short for "Nocturnal Audio & Sensory Awakening")
organically grew to become highly influencial across music, fashion and
that 90's DYI spirit, and is often referred to as the Studio 54 of the 1990s.
Now 20+ years later, it's more than just a gathering or a clothing line, our mantra is "happiness thru peace enclosed in love" The NASA line was Initially launched in 2004 by Scotto at a reunion event called NASA REWIND, based off of it's infamous weekly lithograph print flyer designs, typically in a logo-jamming style. In 2012 Scotto colabbed with the sheek downtown new SOHO NYC boutique VFILES, then quickly became a hit with stylists & celebrities to celebrity photogs, club owners, Internationally recognized DJ/PRODUCERS, NASA family as well as those following hot trends. Now this fully user customizable clothing line is available directly from the founder and NASA Co-Producer Dj Scotto through his multi- media entity STUDIO 4312 & SCOTTO.TV platforms.

---